Concealed Carry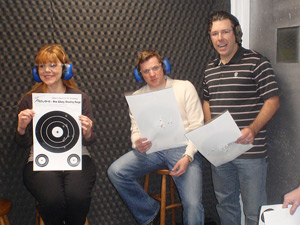 Training so fun and professional you will want to brag to your friends about it. (Don't be misled by other's sites who provide instruction on a part time basis as supplemental income and where you end up shooting benid someone's barn out in the country.) We train thousands each year with one on one coaching designed especially for those who are new to shooting, those who need a refresher and those who need a little extra help getting comfortable with firearms. And, we do it all in the comfort of our heated/air conditioned INDOOR ranges and classrooms. No sitting in a small, stuffy classroom or shooting in the cold, rain or scorching heat when you train with us.
We are the only CCW training center in Ohio that provides you with a semi auto pistol and a traditional revolver in the classroom to practice loading, unloading, making safe and practicing the correct fundamentals to shoot accurately before you actually go to the range to shoot live ammunition. All classroom training is done with dummy ammunition so you will be at ease with the firearms when you go to the range to shoot the real thing.
This 8 hour course is designed for beginning and experienced shooters to help you master the shooting skills and attitudes essential to the safe and efficient use of a concealed carry handgun, for your protection and for the protection of others. This course exceeds the requirements as set forth in Ohio's CCW legislation.
In the classroom, students learn the following:
Safety rules and procedures
Handgun components and functioning
Ammunition basics and malfunctions
Parts and functioning of revolvers and semi-auto pistols
Shooting fundamentals (grip, stance, sight and trigger management)
Cleaning and safe storage
Legal aspects of Concealed Carry
Concealment options
On our range, students practice the following:
Range safety and marksmanship training.
Marksmanship fundamentals, with appropriate coaching, using all of the following firearms:
a. 38SPL/357 Magnum revolver
b. 9MM semi-auto pistol
c. 22 LR
Shooting in low light.
Shooting Demonstration using:
1. Shooting with a tactical flashlight.
2. Shooting with night sights.
3. Shooting with a Laser.
We offer two different class arrangements to fit your schedule. Both are priced at $99.95.
Monday and Tuesday from 6 PM to 10 PM. Class is split 4 hours each day.
Friday, Saturday or Sunday from 8 AM to 4 PM. All 8 hours in one day. BRING LUNCH WITH YOU!
Are you looking for, Ohio ccw training, ccw classes ohio, ccw training Ohio, concealed carry training Ohio? Everything you need to successfully complete the CCW course is provided for you: Guns, Ammunition, Targets, Eye and Ear protection, Books, Safety and Legal Brochures.
Our facilities are fully handicapped accessible! Lodging is available at the Courtyard Marriott just 1/2 mile from the range.
NOTE: Students are advised to bring something to eat to class with them, as we do not have a built-in lunch break; there will be time to eat, but not time to go somewhere to eat.
NOTE: Before registering for ANY CCW Class, ask if they do their shooting inside or outside? Ask if their range is approved by the Ohio Peace Office Training Academy? Shooting in the rain or cold is difficult and uncomfortable at best, that is why we hold ALL our classes at our INDOOR range. See our FAQ Page for some helpful tips on CCW Training.
We guarantee you will enjoy the training, the shooting, the staff, and the 10% discount coupon you receive on successful completion of the course!
Ready to sign up? Click here for availiable classes.