Ladies First Shots
Designed especially for first time female shooters, this class acquaints you with the handgun in a laid back, humorous, hands on atmosphere. Learn the basics of safety, handling and shooting a handgun in a small group atmosphere where you will feel right at home with the other novice shooters. We guarantee you will enjoy this class so much you will leave with a smile on your face.
Sign yourself or your female friends up for this three-hour class of fun and education about handguns.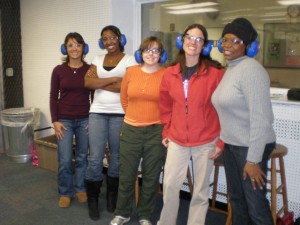 Our "Ladies Only" class, limited to 12 ladies at a time, covers handgun safety (both Semi-auto and Revolver), safe handling, safe unloading, shooting fundamentals and practice shooting .22 caliber handguns on the Pistol Range.
To sign up for this great introductory class, simply sign up below. We provide everything needed - including the good time!
Ready to sign up? Click here to see all of our Ladies First Shots classes.