Shooting Improvement Clinic 6/24/19 6:30-8:30pm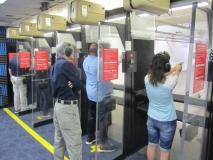 Shooting Improvement Clinic 6/24/19 6:30-8:30PM
This clinic is designed to help develop and improve overall shooting skills. Instructors will coach student to improve performance, consistently, and hit the target exactly where aiming. 

THIS CLINIC IS FOR SHOOTERS THAT HAVE TAKEN A CCW OR FIRST SHOTS CLASS BUT STILL WANT MORE INSTRUCTION.
 
Instructors will provide guns and 25 rounds of ammunition in different calibers to shoot. Included will be 380,
9mm, and 45 caliber semi-autos, as well as 38 special revolvers and ammunition.
 
We highly suggest taking this class before purchasing your first handgun. Familiarizing yourself with shooting
different guns and calibers will make selecting your handgun easier, make you more comfortable with
handguns, the shooting fundamentals, and improve overall consistency. If you own a firearm, we will gladly
help you become more proficient and confident with your own firearm.
Item Info
| | |
| --- | --- |
| Item | Available In Store |
| UPC | 62419 |
| Brand | |
| Mfg No | shoot 2 improve |