As handgun technology evolves, so does the handgun safe industry. Handgun safe manufacturers continue to refine digital features such as biometric scanning, Bluetooth and wireless capabilities, creating a wide market of possible choices to fit a user's storage and safety needs.
Factors such as speed of access, vault construction, portability, the number of stored fingerprints available, battery life, LED lights, tamper alerts and warranty details should be considered when selecting a handgun safe for home or travel.
If you're considering purchasing a handgun safe in 2022, check out five of our picks, including the Vaultek Essential Series Slider SE20, MX Series, LifePod, Fort Knox Original Pistol Box, Stealth Handgun Shadowvault SV1, RPNB RP19001F, GunVault MultiVault GV2050 and Fortress P2EA Small Pistol Safe.
VAULTEK ESSENTIAL SERIES SLIDER SE20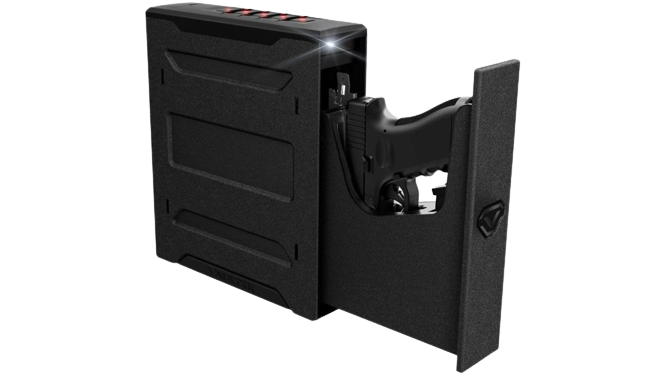 The Vaultek Essential Series Slider SE20 safe is a mountable, fast-access handgun safe with a biometric scanner that can store up to 20 unique fingerprints.
The slide-out feature makes it an ideal choice for placement near desks or in vehicles, with room for two smaller handguns. It's made of 16-gauge steel and has a foam interior to protect your handgun from scratches. The safe also features an LED light, tamper alerts (texts are sent when the safe is opened or moved) and a low battery indicator. A rechargeable lithium ion battery lasts three to four months under normal use.
FORT KNOX ORIGINAL PISTOL BOX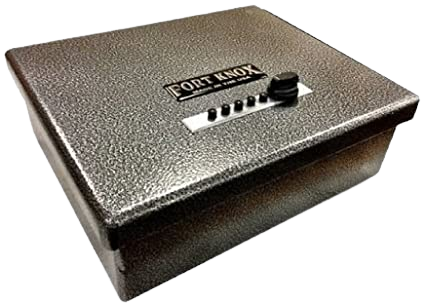 The Fort Knox Original Pistol Box is a classic heavy-duty safe made of 10-gauge steel, with a 3/16″ door plate, making it one of the most secure box safes available, and can accommodate most pistols and extra magazines. It's also mechanically analog — no digital keypad, biometrics or batteries to potentially complicate operation.
The pistol box, employing a 5-button punch lock (with 1081 combinations), is ideal for mounting in your car, camper or furniture, and has a gas strut to assist when you open the door. Its rapid-access feature allows the box to be programmed for a simultaneous, multi-button combination.
STEALTH HANDGUN SHADOWVAULT SV1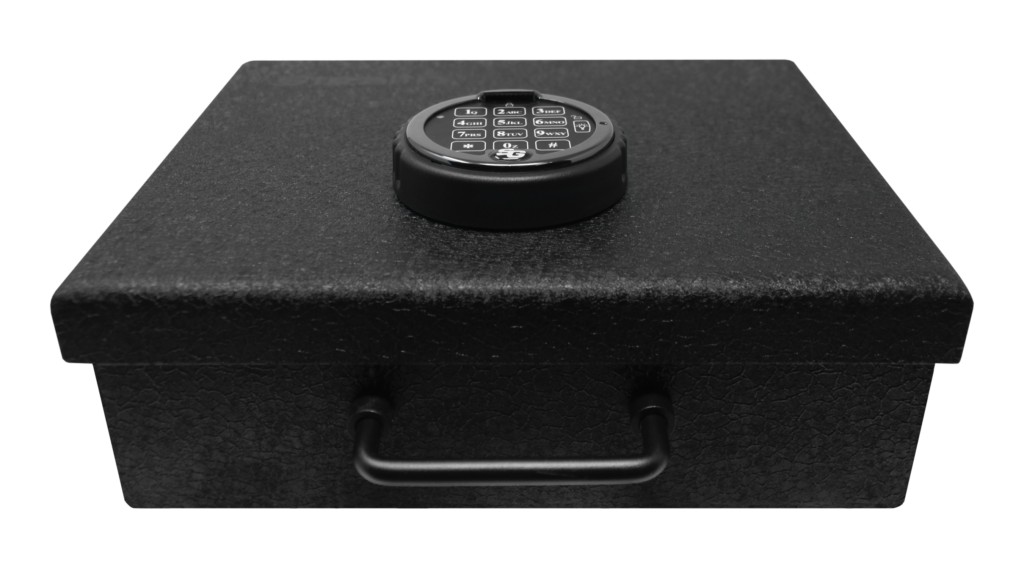 Like the Fort Knox Original Pistol Box, the Stealth Handgun Shadowvault SV1 uses a 10-gauge steel body and 3/16″ steel door plate.
The Shadowvault SV1 features a silent mode and red light on keypad, allowing for quiet access in low lighting. Its customizable interior includes two layers of foam, one pluck foam layer for a snug fit and one egg crate foam layer. The safe's weight — a sturdy 25 pounds — makes it difficult to move easily. With no key backup, users can customize a six-digit code (there are nearly 1 million). After inputing the combination, the keypad is twisted to retract the deadbolt-style lock as the door is lifted; shock pistons assist in raising the door. As the door is closed, the keypad is twisted to extend the bolt.
RPNB RP19001F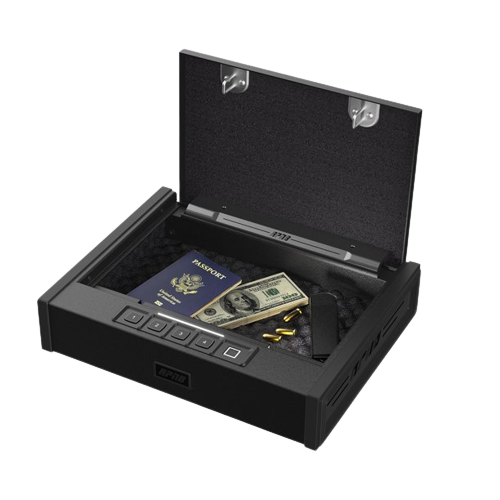 A more affordable vault option, the RPNB RP19001F has three methods for quick entry: the upgraded biometric scanner (with immediate access mode), rapid-fire backlit keypad and manual keys. Features also includes pry-resistant door, durable double layer steel housing and seamlessly welded, pry-proof steel body for prevention against break-in. Pre-drilled holes and hardware are included for mounting.
FORTRESS P2EA SMALL PISTOL SAFE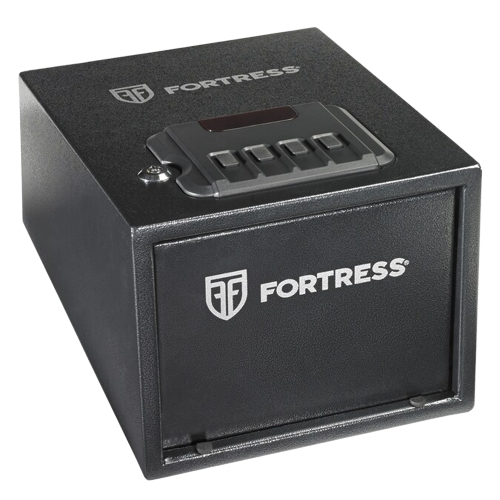 The Fortress quick-access P2EA features an electronic and biometric lock with backup key. It provides fast access when you need it most. Enabled with the Alarm-U feature, a sensor detects motion or tampering for unauthorized entry.
Inside, it features an LED night light and internal pocket. The mounting holes are pre-drilled so you can effectively secure your unit and mounting hardware is included. A whisper-quiet key pad and spring-loaded, drop-down door allow users to access to their firearms quickly in an emergency, with minimal noise.
GUNVAULT MULTIVAULT GV2050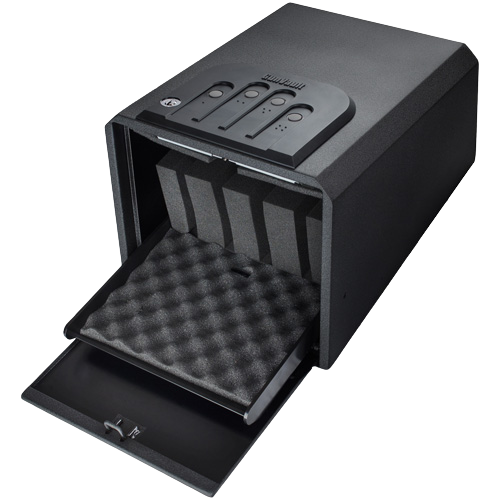 GunVault's MultiVault GV2050 is a heavy-gauge, quick-access steel safe capable of holding up to four full-size handguns. The MultiVault GV2050 employs an electronic lock with a manual override key, illuminated No-Eyes keypad, auto slide out drawer with red LED illumination and tamper-proof concealed hinge. It's important to note, the GunVault MultiVault GV2050 does emit a beep when the keypad is engaged.
SNAPSAFE LOCK BOX XL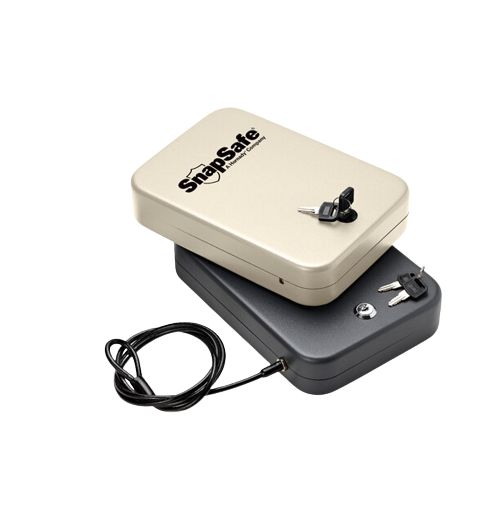 A no-frills storage option, the SnapSafe Lock Box XL relies on a steel key lock mechanism. The SnapSafe Lock Box XL, comprised of 16-gauge steel housing and weighing in at 6 pounds, comes with two keys and a 1,5000 pound-rated, 4-foot steel security cable to secure to a stationary object, such as a car seat or interior frame of luggage.
VAULTEK MX SERIES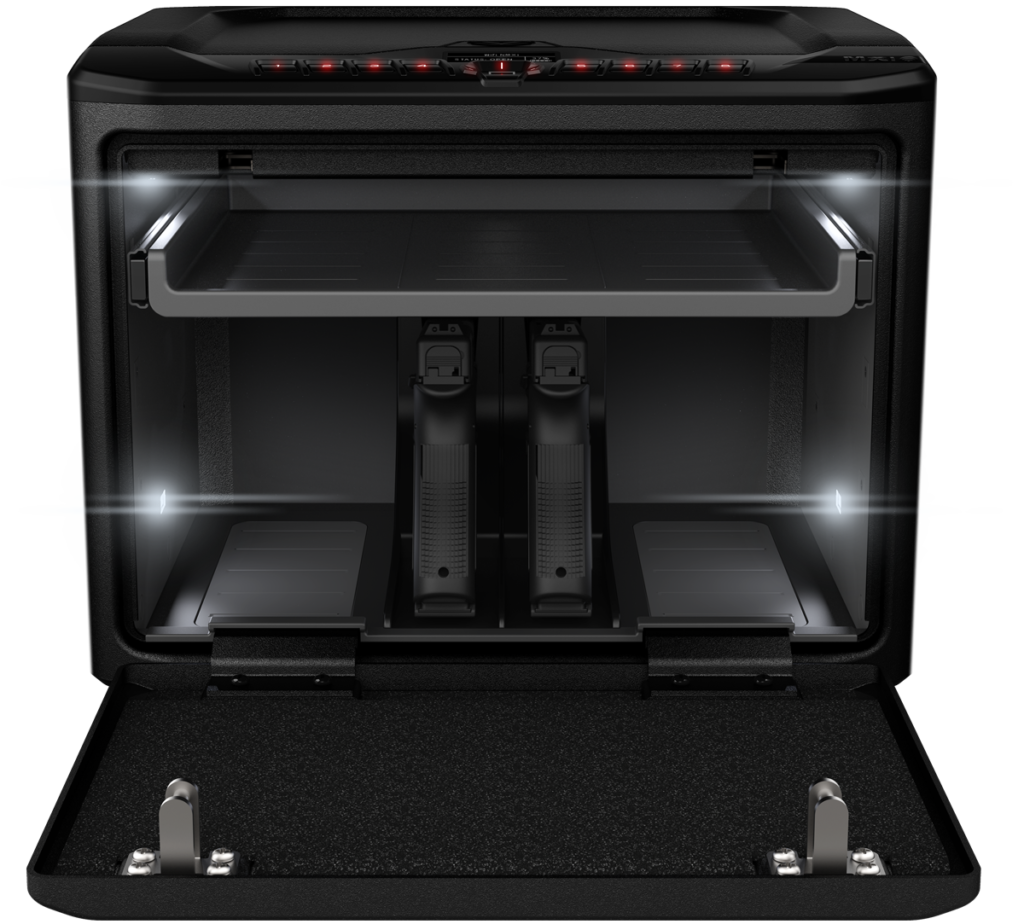 Vaultek's MX Series notches up its handgun safe features with three models: Wi-Fi, Bluetooth and Essential. All three steel MX Series safes are equipped with a numeric keypad with keys, a modular interior, adjustable shelf and auto-open door, with room for eight handguns.
The Wi-Fi and Bluetooth models allow for an optional biometric scanner and are Vaultek Nano Key compatible — the fob-sized button can be mounted or used as a portable panic button, with a 6- to 8-foot range. Nano Keys are also compatible with other Vaultek Wi-Fi and Bluetooth models, such as the previously featured Slider series.
The MX Series Wi-Fi option can send live alerts from anywhere, notifying owners if the safe is tampered, opened and more.
MX Series Bluetooth safes use a smartphone app to check battery levels, humidity, tampering and more, but do not send live alerts.
VAULTEK LIFEPOD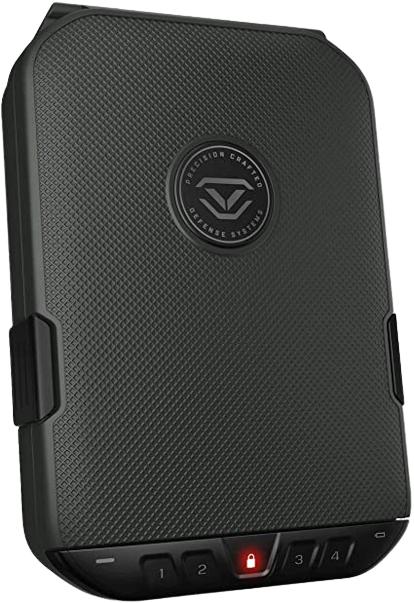 Portable, TSA-compliant and ready for the elements, the Vaultek LifePod boasts up to one year of battery life and can be used without a battery as a weather-resistant case. The LifePod, with a touch-activated keyboard and manual keys, makes for a light carry, weighing a mere 2 pounds, 3 ounces.
An optional anti-picking feature prevents unauthorized access and an anti-impact lock adds additional security. The Vaultek LifePod's dual compression latches and rubber gaskets form an airtight compartment. A micro USB port can serve as a backup power source in case the 9-volt battery dies.
AIMHI FAMILY FIREARAMS CENTER staff can help in guiding gun owners to the appropriate storage method for their firearms and valuables. Call or visit us today with your gun safe needs.